Lucid Marketplace®, a data sample provider, was recently integrated onto Meta4 Insight®, Protobrand's data analysis platform. Our goal was to a provide a more seamless fielding experience for the market research team.
Read Lucid's case study︎︎︎
January— April 2020
Role:
I owned this project from concept to launch alongside Hongyu Zhou (technology director), with support from Kenneth Ott (research director) and the Lucid team.
Result: This integration has provided Protobrand with autonomy over its samples, saving researchers time and effort.
*Unfortunately, due to NDA, I am limited as to what I can showcase!
---
01 — But first, some background

02— The problem

03— The solution

04— Success metric

05— Defining the MVP

06— Wireframes

07— A brief look at Color Accessibility

08— Test
09— Launch
10— Lessons learned
---
01— But first, some background

Protobrand is a market research consultancy. We analyze data on our platform,
Meta4 Insight
.
We use
Lucid Marketplace
, another platform, as a provider of our data samples.
The product team was well aware that the sample management process between two platforms was inefficient. But how did this affect market researchers?


I lead interviews with 5 random market researchers within the company to get a holistic view of their pain points. According to those interviews, the back and forth was frustrating for a couple of reasons:


it is redundant because the processes between the two are often the same
the lack of consolidated information meant market researchers had to view both platforms to monitor any given project holistically
and the back and forth increased the margin of error. It was common for market researchers to find discrepancies or make mistakes when managing data, which costs valuable time and money!

Here is a map of the sample management process to further illustrate these concerns:


02— The problem

Managing projects and their corresponding samples on different platforms is a time consuming and difficult experience.
03— The solution
Streamline the fielding process so that users can access all the information they need on Meta4 Insight.

04— Success metric

Reduce both the time taken to manage samples and CPI costs for market researchers by 50%.


To stay true to this mission, we developed a success metric based on what we knew about our market researchers' workflow and the company's business goals.


---

︎ But wait— what's a CPI?

CPI stands for Cost Per Interview. A Cost Per Interview is how much a market research company is going to pay each respondent for participating in their surveys. Usually ranges from $2.50-$5.00

The harder it is to fill a demographic, the higher the CPI usually is. And, if you're using a sample provider like Lucid, you're at the mercy of how they set the cost.

One major reason why we were keen on integrating Lucid Marketplace into our platform was because it would allow Protobrand to better control its CPI costs. Prior to the integration, Protobrand had to pay a hefty fee to have access to Lucid's whole platform— much of which we didn't use.

05— Defining the MVP
What are the necessary features required to make this integration useful?

The product team held ideation sessions with Lucid to determine our MVP goals. We broke down all features into four categories (General UI, Sample View, Sample Details, and Sample Management) and noted their importance (MVP feature or a nice-to-have).


We then determined the timeline for this project considering our bandwidth. I worked closely with Hongyu Zhou, technology director, from concept to handoff, with support from both Lucid's and Protobrand's research team. Here's a look:

Our Lucid Integration timeline on monday.com. I'm the mii face 😜

06— Wireframes
Lesson learned: design is messier than what they teach you in school!

By the time the team and I had set up our MVP, I had already gone nuts on wire framing ideas on whiteboards everywhere. The team and I bounced ideas off of eachother as I scribbled out user journeys, voted on different ideas, and even wireframed using just post-its when Expos were running low.


These wireframes were the foundation for more polished iterations when we had our flow down pat.


---

When we began this project, we had already developed the backbone of our design language, Plotz, so it was easy for me to imagine how the different pieces of this integration would come together visually. Of course, these components were backed by previous research.

Just a glimpse of our component library



Fortunately, this integration followed much of the same patterns found throughout other areas of Meta4 Insight. This modularity helped speed up the wire framing and subsequent testing processes.

Component ︎︎︎ Wireframe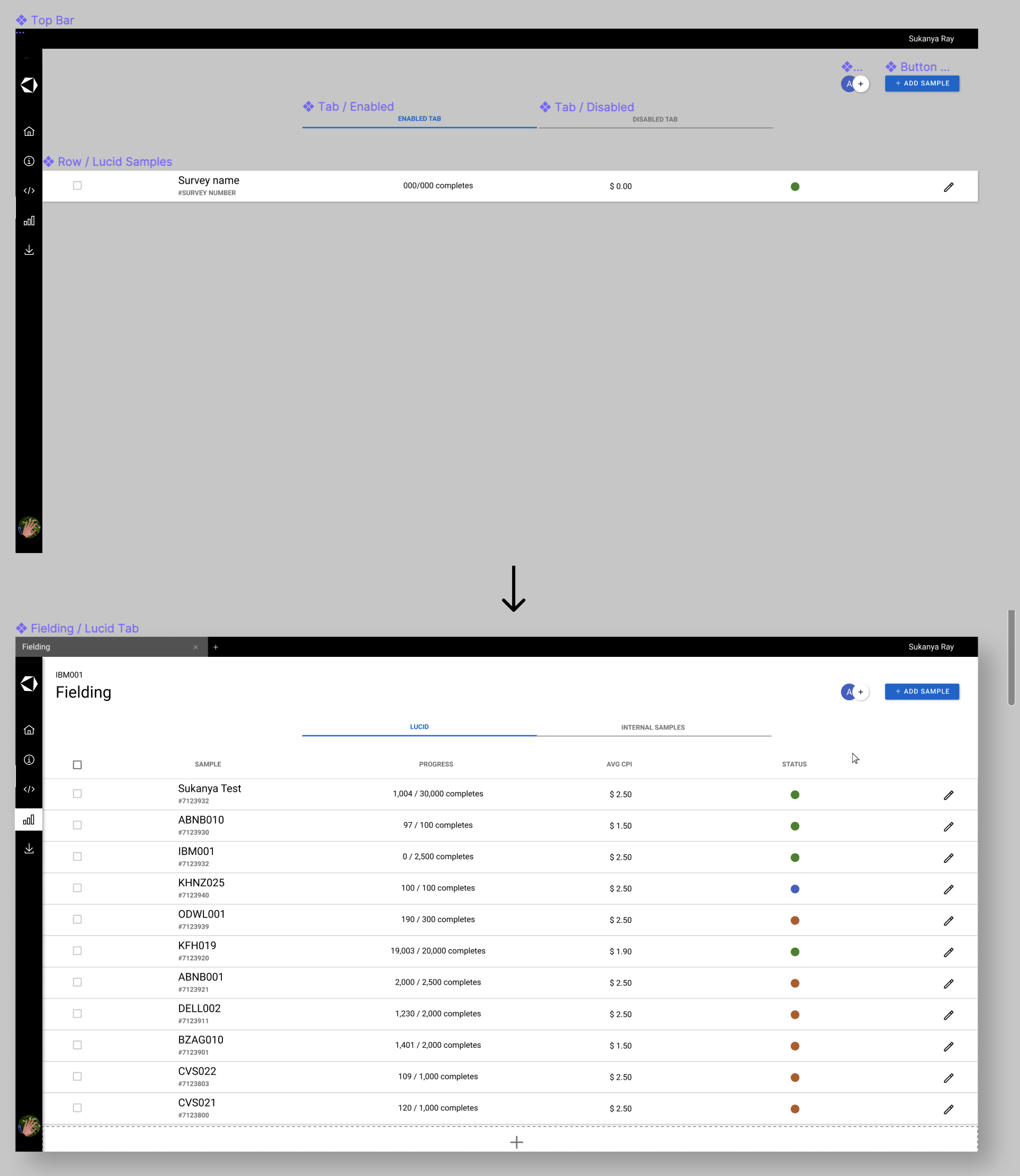 Adding a sample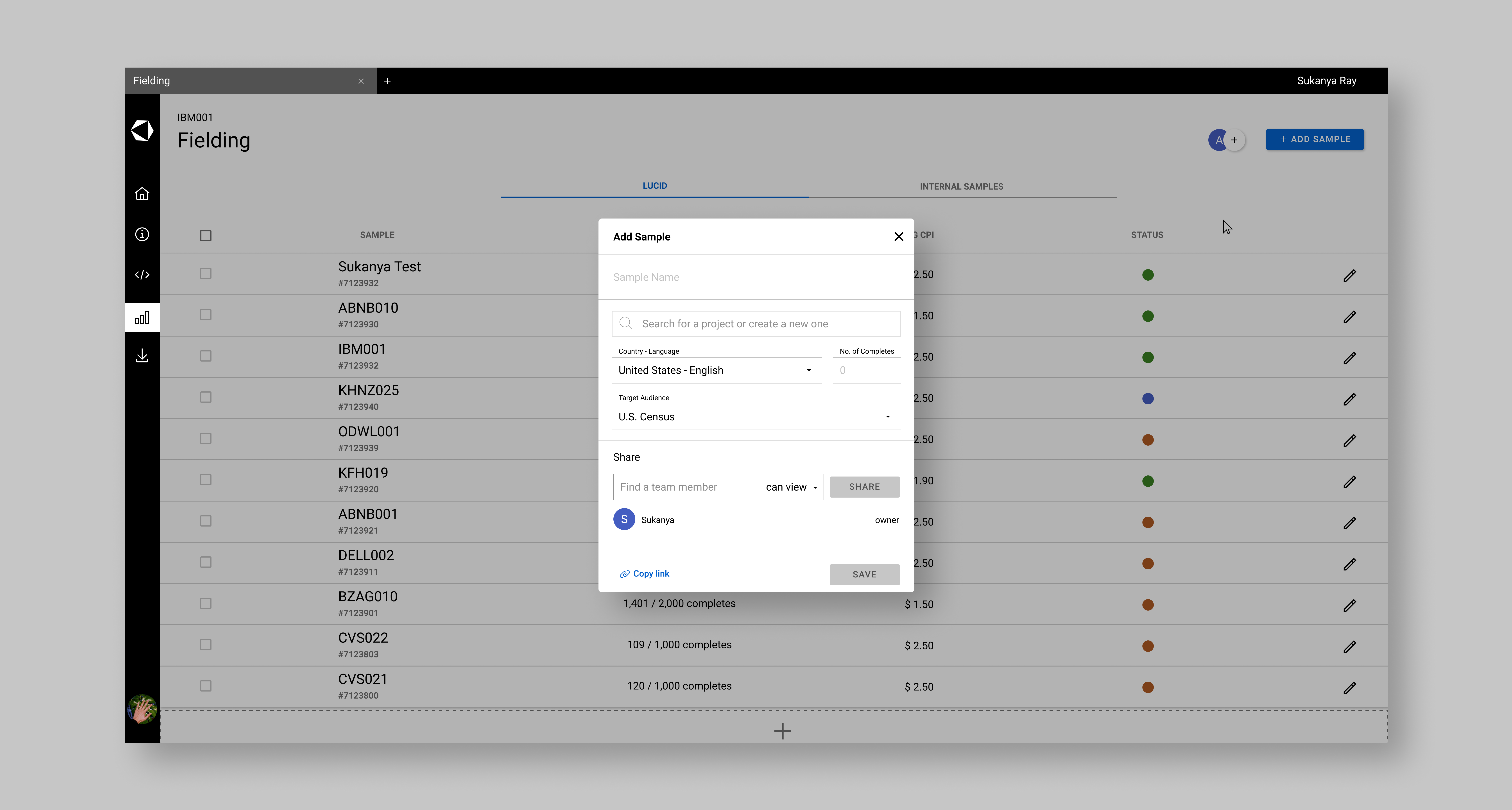 Survey stats

Survey details

Survey sample qualifications

07— A brief look at Color Accessibility
How can we effectively differentiate between statuses?
I'd like to go back for a moment and address the various sample statuses market researchers use to indicate where a given sample is within the fielding process.
You might remember this graphic.
So as you can see here, samples can either be marked as Live, Pending, Complete, or Reconciled. However, we figured that as both platforms undergo such a similar process, it doesn't hurt for the Lucid Marketplace flow to mimic Meta4 Insight, so we added that samples can be Archived, too.
That leaves us with 5 possible statuses for samples, and 3 for surveys. How can we best differentiate statuses from one another?
---
Our solution was, with color! We assigned each status a WCAG approved (or Web Content Accessibility Guidelines approved) color and a spectrum for each to match.
This spectrum of colors can be read as, anything labelled 50 or above is accessible on a black background, while everything 60 and below is accessible on a white background.
Prior to this, Plotz didn't have a set color system in place. Adding in colors as part of our statuses opened up many doors for us and our design language.
Learn more about our design language
here︎︎︎
08— Test
I observed market researchers as they tried to accomplish a set task via my prototypes.


As mentioned earlier, I tested our wireframes by prototyping them on Figma, and later as actual screens with help from engineering, and observing market researchers as they tried to accomplish a set task. We measured success by staying true to the success metric we created in the beginning—by reducing the time taken to manage samples and CPI costs by half.

I measured time by monitoring the learning curve and number of clicks it took for a researcher to complete the set task. I measured our CPI costs by determining whether a researcher felt in control of the fielding process and felt that sample management was native to Meta4 Insight rather than a third-party service.
09— Launch
This project successfully launched at the end of April 2020 🎉


The last couple of weeks were spent with me touching up wireframes and overseeing its development alongside the engineering team.

I worked closely with the technology director, and the rest of the engineering team as we updated components and checked for any final outstanding bugs. Two research leads ran final data checks with our newly integrated platform and Lucid Marketplace to ensure the data was a 1:1 match. We also corresponded regularly with the Lucid team for their support.

Our outcome?


---
Integrating Lucid Marketplace to Meta4 Insight has significantly decreased sample input errors and lowered CPI costs by 46 and 49% in B2C and B2B spaces, respectively.

Our platform overhaul has also eliminated many back-end redundancies, helping to reduce the time spent on the sample management process by 47% 🎉


(While we weren't able to reach a clean 50% or more, we were pretty close, and these numbers have risen as we've revisited the project and made changes since.)

10— Lessons learned
Work fast with what you've got
This project was one of the first of many that I got to see from start to finish, which was a great lesson in itself. I learned that despite what you learn at school and read about online, etc., the design process is rarely ever "clean".
My team and I still understood the ideas we were trying to convey even with our scribbly wireframes on different whiteboards. We worked fast and relied on smartphone pics of those wireframes, learned something new with each round of testing, and I learned more about the market research industry than I thought I would.
This was also a great teamwork opportunity. While the tech director and I were the primary leaders of this project, we had insightful conversations with our market research and engineering team every step of the way, not to mention with Lucid.
I always had the assumption that your team are the people who are directly working on a project, but turns out, that's not true. This project wouldn't have been possible without everyone's support, from our senior engineer to our market research intern.
Back to work ︎︎︎